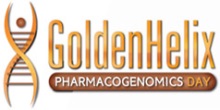 The Golden Helix Institute also organizes the Pharmacogenomics days, a free educational event that is organized in major cities with large academic hospitals. The aim of this event is:
to provide timely updates on the field of pharmacogenomics and personalized medicine to the local biomedical scientists and healthcare providers,
to inform them on the application of pharmacogenomics in fields such as psychiatric disorders, oncology, and
to bring together faculty members from universities and research institutes from the local scientific arena working in the field of pharmacogenomics in order to initiate collaborative projects in this field to the benefit of society.
Click here to access the upcoming Golden Helix Pharmacogenomics day.