Ethics in Research
Ethics and Integrity in Research are vital to all disciplines as they guide researchers in their work and enforce them to face the practical and ethical challenges that arise in research. Ethics examines the application of the principles to the various areas of research, including first the planning and conduct of the research, the way the participants or animals are treated, and secondly the awareness of the scientific misconduct. At the same time, integrity is recognized as the attitude of scientists to conduct research in accordance with appropriate ethical, legal and professional standards. The areas of Research Ethics and Integrity combine general considerations of law and due integrity as academic disciplines dealing with research activities, researchers' ethical attitudes, stakeholders regulatory policies, such as sponsors or funding agencies, the various ethical expectations of civil society.
At the EU policy level, the Council of the European Union recognizes Ethics and Integrity as the basis for high quality research and a prerequisite for achieving excellence as well as developing a credible knowledge base leading to socio-economic development. In addition, it stresses that "inappropriate" research and disputed practices can lead to negative consequences for the economy and society. In particular, failure to adhere to good research practices can adversely affect research processes, deteriorate interpersonal relationships among researchers, undermine research trust and credibility, waste resources and expose users, or research, environment in unnecessary damage.
The Golden Helix Foundation complies with the above practical and ethical norms in all research projects that participates.
Data Protection Officer and Ethics Advisor of the Golden Helix Foundation:
Prof. Dr. Vasileios Fanaras
Email: v.fanaras[at]goldenhelix[dot]org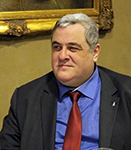 Resume: Prof. Dr. Vasileios Fanaras is Assistant Professor in the School of Theology, National and Kapodistrian University of Athens (Bioethics). He is also Individual Ethics Expert in the European Commission's H2020 program and Data Protection Officer, certified from the European Centre on Privacy and Cybersecurity, Faculty of Law, Maastricht University. Prof. Fanaras is also Member of International Association on Privacy Professionals (IAPP), Tutor in the Hellenic Open University and Member of the Ethics Board of ITERA. Lastly, Prof. Fanaras is Μember of the European Societies of Biomedical Ethics and Genetics and external collaborator in several Universities.